Team Caribou Consulting & Design
----------------------------------- Team Caribou Leads The Way ------------------------------------------------The Corrugated Industries Leader in Field Service & Consulting ----------******************************************************************************************************
Team Caribou has been servicing the corrugated industry since 1998. We specialize in Langston equipment both corrugated and finishing. We support mechanical, electrical and electronic repairs along with machine and sysyem troubleshooting and full line consulting. We also provide machine installations and operator & maintenance training.
Team Caribou is primarily supported by Scott Friz stationed in Cherry Hill, New Jersey and Mark Boltze at the Corporate office in Cadillac, Michigan. Scott and Mark have a combined industry field service experience in excess of 50 years.
Team Caribou doesn't sell parts, we do sell necessary common sense upgrades. We will assess your machine, give you a detailed list of repairs and necessary parts to achieve quality production. The Customer then has the option to purchase these components from their best vendor. Team Caribou Techs pride themselves on repairing and adjusting the machines correctly. We don't throw new parts at problems and expect the problem to cure itself.
Team Caribou can be contacted as follows:
Office Phone: 231-779-4016
Office Fax: 231-779-4015
E-Mail: CaribouInc@Aol.com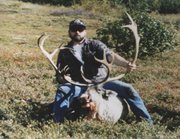 Team Caribou continually strives for new inprovements. This saves our customers from potential downtime and unwanted maintenance costs.
Team Caribou Price Sheet
Effective January 1st, 2020
Standard Hourly Rate ---$115.00 per hr. 7:00 A.M. - 3:00 P.M.
Premium Hourly Rate --$172.50 per hr. 3:00 P.M - 7:00 A.M.
Saturday, Sunday & Hoilday ---$230.00 per hr
Travel Hourly Rate ----- $115.00 per hr.
Travel Weekend & Holiday Rate ----- $172.50
( max travel 12 hrs. )
Team Caribou Expense Sheet
Daily Food Allowance $50.00 per day
----- Personal Mileage $0.70 per mile ----- ( 1200 mile max charge R/T )
Airline, Rental Car, Tolls, Hotel, Gas, Baggage ,Parking, Laundry, Hardware, etc. Actual costs no upcharge
Team Caribou Terms & Payment
Terms 2% 10 Days / Net 30 Days
Rates subject to change - please inquire
Langston Single Facer & Flexo Upgrade Packages
380 S/F - Independant Pressure Roll Upgrade ( This package has electric motors for better control through the gear box. It also eliminates additional hydraulic lines which can cause additional leaks ) Current Price 07/14/2020 $27,750.00 Parts, Labor & Expenses Included
380 S/F - Pneumatic Upgrade ( Replaces the Aero valves located inside the machine, to a safe location within a box external of machine traffic with Mac valves ) Current Price 07/14/2020 $10,950.00 Kit
380 S/F - Hydraulic Tubing Upgrade ( all hydraulic lines are external of the machine, made out of 3/8 inch stainless steel tubing, with weatherhead hoses, with swivels heads on both ends for quick unbinding attachment ) Current Price 07/14/2020 $26,500.00 Parts, Labor & Expenses Included
380 S/F - Seal Roll - Felt Bar Stainless Upgrade ( Upgrade to replace the seal roll with a felt bar. This package is stainless steel and completely assembled. Drops in place ) No need for hours of drilling and mounting like our competition. Current Price 07/14/2020 $11,150.00 Kit
Saturn Flexo - Pneumatic Upgrade Package ( replaces the leaking Aero valves with Mac valves mounted on pre wired manifold blocks. ) Call for prices. Varies according to number of print section, die cutter etc.
Saturn Flexo - Folding Rail Hold Down Roller Upgrade ( zero crush ) ( Replaces existing hold down rollers with new improved system. Replaces brass sleeve and sholder bolt with bearing mount. Replaces steel hold down roller with zero crush roller ) Current Price 06/01/17 $16,750.00 Kit
380 S/F - Backup Manual Switch Conversion ( Install a series of "7" lever toggle switches. This will allow totally manual control of the single facer incase your monitor fails. You will be able to control hydraulics, glue motor, blower motor, all gaps, auto and bypass modes. If the monitor fails your Langston 380SF will not run. ) Current Price 07/14/2020 $6,100.00 Parts & Labor Included
380S/F - Hydraulic Tank Relocation ( We completely remove the Hydraulic tank & Valves along with the Utilities valve package and relocate outside the machine enclosure ) It will be remounted along the wall away from the machine heat and vibration. This will eliminate another factor in hydraulic tank overheating problems. It will also stop the o-rings from melting within the valve stack. Roll changes, joint repairs and overall drive side machine maintenance will be easier and safer. Current Price 07/14/2020 $28,750.00 Parts & Labor - with variables on distance away from SF ( additional S/S tubing )
380 Glue Machine ( We also offer a manual switch upgrade for the double and triple stack glue unit at your double facer. If your monitor fails, the glue machine won't run. Manual switch package for the PLC.) Current Price 06/01/17 Double Unit $6,100.00 Triple Unit $9,000.00
380 S/F Hydraulic pump and Valve Upgrade ( we offer a complete stand alone Parker hydraulic system replace your existing internal hydraulics. This system is ready to be piped externally to the machine) Current Price 07/14/2020 $26,500.00
Langston Roll Stand Hydraulics ( We offer a complete Parker retrofit hydraulic tank and valve package and power unit for the Langston Roll Stands.) Current Price 06/01/17 $23,500.00